Haridwar to Chopta taxi
Planning a trip from the spiritual heart of Haridwar to the serene haven of Chopta? Look no further than GT Cabs, your trusted travel partner. With a fleet comprising comfortable Sedans, spacious Ertigas, luxurious Innova Crystas, and convenient Tempo Travellers, we offer you a range of options to suit your travel needs.
Our experienced and courteous drivers are not just professionals behind the wheel; they are your local guides, ready to make your journey memorable. They are well-versed in the region, ensuring you not only reach your destination safely but also get to witness the hidden gems along the way.
Experience the natural beauty of the Uttarakhand region with a hassle-free ride from Haridwar to Chopta. Book your GT Cab today and embark on a memorable adventure with reliable vehicles and friendly, knowledgeable drivers by your side.
---
Haridwar to Chopta One-Way & Round-Trip Taxi with GT Cabs
Whether you're seeking a one-way or round-trip journey from Haridwar to Chopta, GT Cabs has got you covered. Choose the flexibility of a one-way ride or the convenience of a round-trip package, both designed to cater to your travel needs.
Our fleet comprises comfortable Sedans, spacious Ertigas, luxurious Innova Crystas, and convenient Tempo Travellers, ensuring that you travel in style and comfort. Our experienced and courteous drivers, who are also local experts, will not only get you to your destination safely but also provide insights into the region's culture and history.
Book your GT Cab today and explore the beauty of Uttarakhand at your own pace, with dependable vehicles and knowledgeable drivers to guide you along the way.
Facts About Tungnath, Chopta, and Chandrashila with GT Cabs
Discover the fascinating facts about three gems nestled in the Garhwal Himalayas, all while enjoying the comfort of GT Cabs:
Tungnath: Tungnath, the highest Shiva temple in the world at 3,680 meters, is a sacred pilgrimage site. With GT Cabs, you can journey to this spiritual destination in the vehicle of your choice, guided by our experienced and friendly drivers.
Chopta: Known as the "Mini Switzerland of India," Chopta is a paradise for nature lovers and trekkers. With our range of vehicles and knowledgeable drivers, your trip to Chopta will be as comfortable as it is scenic.
Chandrashila: The Chandrashila summit, at 4,000 meters, offers panoramic views of the Himalayan range. Our drivers, in addition to their driving expertise, are well-versed in the region's attractions, ensuring you don't miss out on any breathtaking sights.
Explore these destinations with GT Cabs, where not only will you experience spirituality, natural beauty, and adventure, but you'll also have the added benefit of friendly and informed drivers to enhance your journey.
Sightseeing on the way and nearby Chopta
Tungnath: Tungnath, located in the Himalayas of India, is renowned as the world's highest Shiva temple. A sacred pilgrimage destination, it sits amidst breathtaking mountain scenery, offering not only spiritual solace but also awe-inspiring vistas, making it a must-visit for both devotees and nature enthusiasts alike.
Ukhimath: Ukhimath, a tranquil town in Uttarakhand, India, serves as the winter home for the deity Lord Kedarnath. Nestled in the Garhwal Himalayas, it's a gateway to several pilgrimage sites and offers scenic beauty, making it a popular destination for religious and nature-seeking tourists alike.
Chandrashila: Chandrashila, perched in the Indian Himalayas, is a majestic summit known for its breathtaking panoramic views. Trekkers and adventurers are drawn to its challenging trails, culminating in a vista that includes the towering Nanda Devi, Trishul, and Chaukhamba peaks, making it a trekking paradise.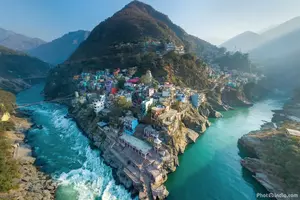 Devprayag: Devprayag, nestled in the Garhwal region of Uttarakhand, India, is a sacred confluence where the Alaknanda and Bhagirathi rivers merge to form the mighty Maa Ganga. It's a revered pilgrimage site, offering spiritual significance and picturesque surroundings, attracting devotees and nature enthusiasts alike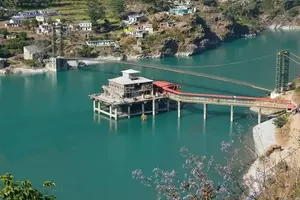 Maa Dhari Devi temple: Maa Dhari Devi is a revered goddess temple in Uttarakhand, India, situated on the banks of the Alaknanda River. It's dedicated to the guardian deity believed to protect the region from natural disasters. Pilgrims visit to seek her blessings, making it an important religious site in the Himalayas.
Rudraprayag: Rudraprayag, located in Uttarakhand, India, is a picturesque town at the confluence of the Alaknanda and Mandakini rivers. It holds spiritual significance and is a gateway to several Himalayan pilgrimage sites. Its serene natural beauty and religious aura make it a popular destination for travelers and devotees.
Sari Village: It is a serene Himalayan hamlet and the base for the breathtaking trek to Deoria Tal. Surrounded by lush forests and offering stunning views of the Chaukhamba Range, it's a haven for nature enthusiasts and trekkers seeking tranquility and natural beauty.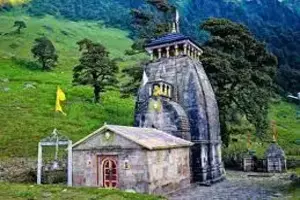 Madhyamaheshwar Mandir: Madhyamaheshwar Temple, situated in the Garhwal region of Uttarakhand, India, is a revered shrine dedicated to Lord Shiva. Surrounded by pristine Himalayan landscapes, it's the middle temple of the Panch Kedar pilgrimage and offers a tranquil and spiritual atmosphere for devotees and pilgrims.
Tungnath Trek Information with GT Cabs
Embark on an unforgettable Tungnath Trek with GT Cabs, where comfort and adventure go hand in hand:
Location: Tungnath is located in the Rudraprayag district of Uttarakhand, India. Our fleet is equipped to take you there safely and comfortably.
Altitude: The trek starts from Chopta (2,680 meters) and ascends to Tungnath (3,680 meters), making it accessible to trekkers of varying experience levels. Our knowledgeable drivers can offer insights into the trek's difficulty and requirements.
Distance: The trek is approximately 4.5 kilometres one way. Our vehicles are ready to transport you to the trek's starting point.
Duration: On average, it takes about 3-4 hours to reach Tungnath from Chopta. Our drivers ensure a smooth and timely journey.
Prepare for the adventure of a lifetime as you trek to Tungnath and beyond, with breathtaking views and a connection to the divine. Let GT Cabs be your trusted partner, providing not only reliable vehicles but also experienced drivers who are passionate about making your journey memorable.
Some FAQs about Haridwar to Chopta taxi
How far is Chopta from Haridwar, and how long does it take by taxi?

Chopta is approximately 190-200 kilometers away from Haridwar, depending on the specific route taken. The travel time by taxi can vary, but it usually takes around 6 to 8 hours, depending on road conditions and traffic.
What are the taxi fare and pricing options for the Haridwar to Chopta route?

Taxi fares from Haridwar to Chopta can vary depending on the type of vehicle you choose, the taxi service provider, and any additional services or stops you may require during the journey. Generally, you can expect to pay anywhere from INR 4,000 to INR 6,000 for a one-way trip.
Do I need to book my Haridwar to Chopta taxi in advance, or can I find one on the spot?

While it's possible to find a taxi on the spot in Haridwar, especially during peak tourist seasons, it's generally recommended to book your taxi in advance to ensure availability and secure a better price. Booking in advance also allows you to choose the type of vehicle that suits your needs.
What is the best time to travel from Haridwar to Chopta by taxi?

The best time to travel from Haridwar to Chopta by taxi is during the months of March to June and September to November when the weather is pleasant and the roads are generally in good condition. It's advisable to avoid travelling during the monsoon season (July to August) due to the risk of landslides and road closures. Additionally, Chopta is a popular destination for snow enthusiasts in the winter months (December to February), but road conditions may be challenging during this time.