Dehradun to Kedarnath taxi
Kedarnath Dham opening date in 2023: The opening date of Kedarnath Dham is 26 April 2023. Taxi booking started for the Kedarnath Dham yatra.
Looking for package which includes
Taxi Hotel Food
Mr Dinkar Chawla
Kedarnath Dham Yatra is one of the most popular Char Dham Yatra in Uttarakhand. Kedarnath is a beautiful temple which is dedicated to lord Shiva and the temple is located in the beautiful mountains of the Himalayan region. There is a lot of belief in Shri Kedarnath Dham in Hinduism, Kedarnath temple is open only for specific time periods which are between (Apr/May to Oct/Nov) and every year thousands of tourist visit Kedarnath Dham to take the blessings of lord Shiva if you also want to be lucky enough and want to take the blessing of lord Shiva then you must visit Kedarnath temple and we promise you that you will fall in love with the beauty of Kedarnath.
If you are also planning to visit Kedarnath Dham and you should first visit Dehradun/Haridwar/Rishikesh, Dehradun is the gateway to Char Dham yatra as most of the tourist visit arrive by flight and the nearest airport is the Dehradun airport (Jolly Grant airport). It"s better to hire a taxi after you have arrived at the airport because it is the most relevant mode of transportation if you want to go to Kedarnath.
GT CABS is here to fulfill all your taxi needs because we provide taxi service for Dehradun to Kedarnath at the lowest fares possible, we also believe in total customer satisfaction and that is why we keep customers above everything and give them the best cab experience. If you are looking for a good taxi service that can provide you with a taxi for your Kedarnath trip and also which is pocket-friendly then you are at the right place. We provide all types of taxis like Dzire, Etios, Brezza, Ertiga, Innova Crysta, and Tempo Traveller which means we have a cab for every need. GT CABS have a big fleet of taxi and drivers who are expert in the hill region and they know all the routes/alternative routes also our drivers also work as a guide because they are aware of all the sightseeing and the history related to it which all makes your trip very smooth, comfortable and hassle-free.
---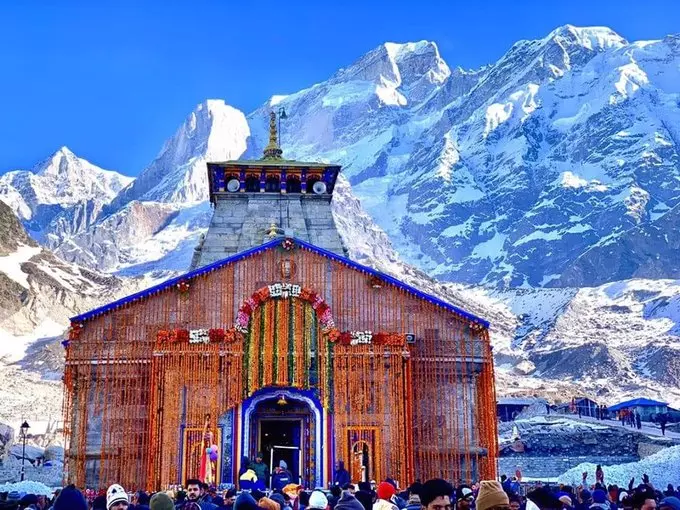 Dehradun to Kedarnath round-trip taxi
Dehradun to Kedarnath round-trip taxi is the most hired taxi rental because when you hire a taxi for round-trip then you get many benefits along with it like free of cost sightseeing, you can use a cab anytime, Driver as a guide, discounted price, and customized trip. If you want to enjoy the trip from Dehradun to Kedarnath then your trip should be a minimum of 3-4 days. Because it takes a minimum of 10 hours to reach Dehradun to Sonprayag/Sitapur and after that, there is a trek from Gaurikund/Sonprayag to Kedarnath temple which is more than 16KM long and it takes about 8 hours to trek from Gaurikund to Kedarnath temple and the same for return from Kedarnath Temple to Gaurkind/Sonprayag as you can see it"s a long way so minimum 3-4 days are required to complete your trip comfortably. Below we have given a sample itinerary of 3 days you can consider it or make your own and send it to our team.
Ganpati Tours provide neat and clean taxi with skilled drivers who are skilled in hill regions, If you hire a taxi from Dehradun to Kedarnath from Ganpati Tours then we promise you a comfortable, smooth, and hassle-free trip. Now GT CABS (Ganpati Tours) is offering a flat 10% off on Dehradun to Kedarnath taxi for a round-trip in 2023. So, what are you waiting for? book your Dehradun to Kedarnath taxi now with a minimal advance amount. Call or WhatsApp us now to book your taxi for Dehradun to Kedarnath.
Dehradun to Kedarnath Itinerary (2Night 3 Days)
Day 1: Start your journey from Dehradun to Sonprayag/Sitapur and cover sightseeing on the way like Devprayag and Rudraprayag. Reach Sonprayag in the evening and check in at your hotel for a night stay, it"s a 10-hour journey so it is better to start as early as possible.
Day 2: Wake up early morning and start your trek to Kedarnath temple from Sonprayag/Gaurikund. The trek is more than 16KM so you also have an option to hire a Khachhar also you can book a helicopter. It takes about 7-8 hours for a normal man to reach Kedarnath by trek from Sonprayag. So you will reach Kedarnath by the afternoon or evening after that you can enjoy some views of Kedar valley and if you are tired then you can check in to your hotel for a night"s stay.
Day 3: Wake up again early morning and take a bath after that get in the queue for Kedarnath Dham darshan, after Pooja and Darshan of lord Shiva and spend some time in Kedar valley you can start your journey back to Sonprayag by trek/Khachhar/Helicopter. Reach Sonprayag by afternoon or evening then the cab driver will take you back to Dehradun and will drop you at your given location.
Note: The itinerary given above is just a sample you can consider it or your can make your own. Also, our team can plan it for you after asking for some basic details.You can also book a taxi for 2 Dham Yatra (Kedarnath & Badrinath Ji).
Dehradun to Kedarnath one-way taxi
Dehradun to Kedarnath one-way taxi is the most basic car rental, But we make sure that our customers get the premium service. Dehradun to Kedarnath"s one-way taxi can be pocket-friendly for you if you want to stay in Kedarnath for more than 4 days. We have all types of taxis available for Dehradun to Kedarnath one-way like Sedan, SUV, MU, Innova, Innova Crysta and tempo traveller. In a one-way taxi for Dehradun to Kedarnath we offer free sightseeing which is on the way at free of cost. Which makes Ganpati Tours the best taxi service from Dehradun to Kedarnath. You can call us at 7055333356 for more details.
Dehradun to Kedarnath and Badrinath (Do Dham Yatra) taxi
Do Dham yatra is the most famous yatra among the char Dham yatra of Uttarakhand. In Do Dham Yatra you visit 2 Dhams which are Kedarnath Ji and Badrinath Ji both these Dhams have a high belief in devotees. Kedarnath temple is dedicated to lord Shiva whereas the Badrinath temple is dedicated to lord Vishnu. If you want to take the blessing of both Dhams and thinking about your trip for 2 Dham yatra from Dehradun, then you can just simply call us on 7055333356 or you can visit this page for more information. Dehradun to Kedarnath and Badrinath taxi.
Facts about Kedarnath
It"s truly said that you can feel the wind from heaven in Kedarnath.
The mountains near Kedarnath look like made of gold when the first ray of sunlight falls on them. But you have to wake up early morning to enjoy this beautiful view.
Lord Shiva guards the Kedarnath shrine. Intense monsoon rains in 2013 resulted in landslides and floods, which completely destroyed Kedarnath"s environs. The Kedarnath temple stayed unharmed as if a spiritual force was keeping it from being destroyed, despite the fact that many villagers and pilgrims perished that year due to the destruction of nature.
FAQ about Dehradun to Kedarnath taxi
Does your cab have a luggage carrier?

Yes, Ganpati Tours (GT CABS) all cars have a luggage carrier on top.
What payment methods do you accept?

We accept all types of payment methods like cash, cards, net banking and UPI.
Can I book a taxi for Dehradun to Badrinath Dham?
Do you also provide vehicles for more than 8 passengers?

Yes, Ganpati Tours (GT CABS) provide vehicle like Tempo Traveller which is best suitable for more than 8 passengers.
Is sightseeing included for free in Dehradun to Kedarnath round-trip taxi?

Yes, All the sightseeing which are within the way and nearby Kedarnath are included without any additional charges.
Why hire taxi from GT CABS?
Hygienic Cabs
Skilled Drivers
Reasonable Rates & Pocket-Friendly Cabs.
24×7 Customer Support.
No Booking Charges for one-way
100% Confirmed Rides