Taxi service in Delhi
Welcome to GT Cabs, your premier taxi service in Delhi, committed to providing top-notch transportation solutions for residents and visitors alike. With a reputation for reliability, affordability, and excellence in service, GT Cabs has become the go-to choice for thousands of satisfied customers. Whether you need a comfortable ride to the airport, a quick trip across the city, or a full-day tour of Delhi's iconic landmarks, our fleet of well-maintained taxis and professional drivers are ready to serve you.
Delhi is a beautiful metro city also known as the heart of India daily thousand of tourists come to Delhi because Delhi has an international airport which makes Delhi a gateway to India, If you are in Delhi and looking for a taxi for local & outstation which is in your pocket budget then you are at the right place because GT CABS provide all types of the cab which are neat, clean and also pocket-friendly. We provide door-to-door service at very reasonable charges so if you are planning a trip then give us a chance we will definitely make your trip beautiful, memorable and hassle-free. GT Cabs is now accepting bookings with zero advance amount which makes our cab service secure and more trustable. We give our customers the right to fully customize their trips suppose customers need a taxi for multiple days or they have multiple pickups and drop locations then all you have to do is just call us on 7055333356.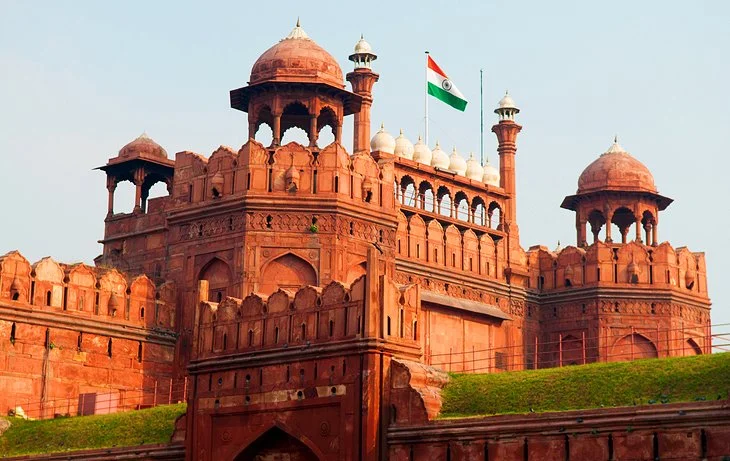 Red Fort: The Red Fort, a UNESCO World Heritage Site in Delhi, India, is a majestic 17th-century fortress constructed of red sandstone. It's an iconic symbol of India's rich history and cultural heritage. The fort's impressive architecture, including intricate carvings and a grand entrance gate, make it a must-visit historical landmark, showcasing the splendor of Mughal architecture.
Qutub Minar: The Qutub Minar, located in Delhi, India, is a UNESCO World Heritage Site and a magnificent example of Indo-Islamic architecture. Standing at 73 meters (240 feet), it is the world's tallest brick minaret. Built in the 12th century, the Qutub Minar is adorned with intricate carvings and inscriptions, reflecting the rich history of the region. It is a prominent historical and architectural treasure, drawing visitors from around the globe.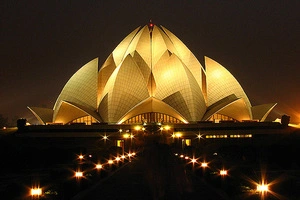 Lotus Temple: The Lotus Temple, situated in Delhi, India, is a unique architectural marvel known for its lotus-like shape. Completed in 1986, this Bahá'í House of Worship welcomes people of all faiths and backgrounds to meditate and pray in its serene surroundings. The temple's white marble petals symbolize purity and peace, making it not only an architectural wonder but also a symbol of unity and spirituality, attracting visitors seeking solace and contemplation.
Akshardham: Akshardham, located in Delhi, India, is a stunning Hindu temple complex and spiritual-cultural monument. It showcases exquisite architecture, intricate carvings, and a mesmerizing water show. Opened in 2005, it's dedicated to Lord Swaminarayan and celebrates India's rich cultural heritage. Akshardham offers a profound spiritual experience, as well as an opportunity to appreciate the country's artistic and cultural diversity.
Bangla Sahib: Bangla Sahib Gurudwara, a prominent Sikh temple in Delhi, stands as a symbol of compassion and service. It offers a serene oasis in the heart of the bustling city. Visitors are welcomed with open arms, and the temple's sarovar (holy pond) and langar (community kitchen) serve as a testament to the Sikh values of selflessness and equality. The Gurudwara provides solace, spiritual reflection, and nourishment to all who enter its doors.
India Gate: The India Gate, situated in the heart of New Delhi, is a national monument of India. Built in memory of Indian soldiers who sacrificed their lives in World War I, it's an iconic symbol of patriotism and honor. This majestic arch stands as a tribute to the nation's heroes and offers a picturesque setting for reflection and remembrance. It's also a popular gathering place for locals and tourists alike
Birla Mandir: The Birla Mandir, also known as the Laxminarayan Temple, is a Hindu temple in Delhi, India, dedicated to Lord Vishnu and Goddess Laxmi. This architectural masterpiece, constructed in 1939, combines traditional and modern influences, featuring intricate carvings and stunning white marble. The temple's serene ambiance and spiritual significance make it a popular destination for both devotees and tourists, offering a peaceful place for worship and reflection amidst the bustling city.
Humayun's Tomb: Humayun's Tomb, located in Delhi, India, is a UNESCO World Heritage Site and a remarkable example of Mughal architecture. Built in the 16th century, it served as the inspiration for the Taj Mahal. The tomb's intricate design, lush gardens, and use of red sandstone and white marble create a harmonious and serene atmosphere. It stands as a lasting tribute to the Mughal emperor Humayun and is a popular historical attraction in Delhi.
---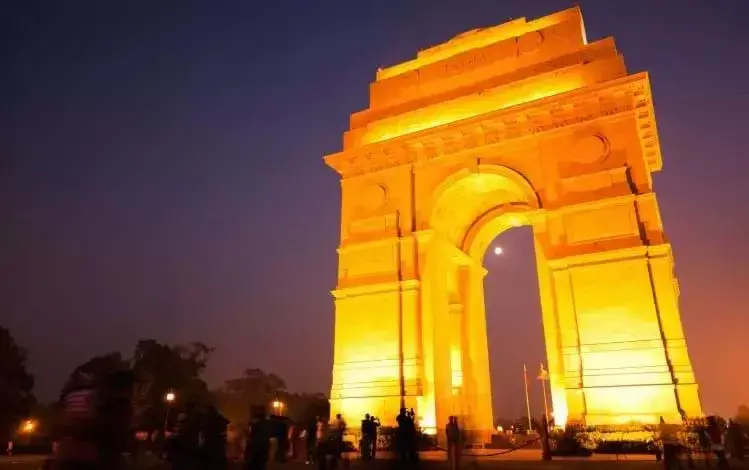 Taxi Service at Delhi airport at discounted price
Ganpati Tours cab service is available at all terminals of IGI airport Delhi, So if you"re arriving at Delhi airport and want a taxi for outstation or local drop then here we are for you because our cabs are available 24x7 and we accept a booking without any advance amount. So just contact us on call or WhatsApp for the best price and latest offers. We are providing taxis at IGI airport Delhi for more than 10 years and still, we have zero complaints about our quality of service which makes GT CABS the most recommended cab service at Delhi airport.
How to a ride Book with GT CABS
Booking a ride with GT Cabs is simple and convenient. You can either use our user-friendly website or mobile app to book a taxi in advance or request one on-demand. Just enter your pickup and drop-off locations, choose the type of taxi you prefer, and get an instant fare estimate. Once confirmed, your GT Cab will arrive at your location promptly.
GT Cabs is not just a taxi service; we are your travel partners in Delhi, dedicated to providing unmatched convenience, comfort, and affordability. With the cheapest fares, a diverse fleet of well-maintained taxis, experienced drivers, and excellent customer service, we strive to exceed your expectations on every journey. Next time you need a taxi in Delhi, trust GT Cabs for an exceptional ride. Book with us today and experience the difference!

Neat & Clean Cabs

Expert Drivers

Affordable Price

Memorable Rides

Discount Price

Live Car Tracking
Trusted Drivers

Value for money
Taxi for outstation in Delhi at 10% off
We provide Delhi to outstation taxis at very discounted and affordable prices for one-way, round-trip and for multiple days car hire. So if you are planning an outstation trip with your family and friends where you can spend a good time then GT CABS can be the best choice for you as now we are giving flat 10% off on your first outstation round-trip for multiple days. Now you can easily customize your trip for one-way and round-trip on just one call or WhatsApp.
Local rental taxi in Delhi
Ganpati Tours not only provide outstation taxi at a cheaper price but also local rental taxi service in Delhi, You can either hire a cab for your personal use or hire it for New Delhi sightseeing like India gate, lotus temple, India Gate etc. We have a cab available for every need whether you are a single person or you are a group of family or friends then here we are for you. we have a 200+ own vehicle fleet so our customers can choose the best vehicle suitable. So, What are you waiting for? call us to book your taxi now.
Why Choose GT Cabs?
Cheapest Fares: Avoid the hassle of public transport and expensive airport parking. GT Cabs offers reliable airport transfer services, ensuring you reach your destination on time and stress-free.
Point-to-Point Travel: Whether you need to attend a business meeting, run errands, or visit friends and family, our point-to-point taxi service is at your disposal. Sit back, relax, and let GT Cabs take you where you need to go.
Sightseeing Tours:: Experience the rich cultural heritage and architectural marvels of Delhi with our personalized sightseeing tours. Our drivers will take you to famous landmarks like the Red Fort, Qutub Minar, India Gate, and more.
Outstation Trips: Planning a weekend getaway from Delhi? GT Cabs offers outstation taxi services to nearby destinations, allowing you to explore the beauty of India hassle-free.
Service We offer
Airport Transfers: At GT Cabs, we understand the value of your hard-earned money. We offer highly competitive fares without compromising on the quality of our service. Say goodbye to overpriced rides and choose GT Cabs for affordable yet premium taxi services.
Good Taxi Fleet: Our fleet of taxis comprises modern, well-equipped, and meticulously maintained vehicles. From compact cars to spacious sedans, we have a diverse range of taxis to cater to your specific needs. Every vehicle is regularly inspected to ensure a safe and smooth journey for our passengers.
Experienced Taxi Drivers: At GT Cabs, our drivers are more than just chauffeurs; they are skilled professionals who know the roads of Delhi like the back of their hands. With years of experience and comprehensive training, our drivers prioritize your safety, comfort, and timely arrival at your destination.
Excellent Service: Customer satisfaction is our top priority, and we leave no stone unturned to ensure your experience with GT Cabs is nothing short of exceptional. From the moment you book a ride to the end of your journey, our customer support team and drivers are dedicated to providing a seamless and enjoyable ride.
Cabs available
GT-Comfort(Dzire/Etios/Amaze/Xcent)
GT-Carnival(Ertiga/Marazzo)
Assured Innova(Innova/Innova Crysta)
Taxi Fare Details
Vehicle Type
Airport
Outstation
Pick/Drop
Round Trip
One way
Swift Dzire
₹900
₹11
₹16
Ertiga
₹1000
₹15
₹22
Toyota Innova
₹1500
₹18
₹23
Toyota Crysta
₹1600
₹19
₹23

Driver Charges (After 10PM): ₹250, *(Base Fare)

Outstation (Round-trip): Min. 250KM / Day
Local Rental Fares
| Vehicle Type | 8Hr 80KM* | 12Hr 120KM* |
| --- | --- | --- |
| Swift Dzire | ₹1900 | ₹2200 |
| Ertiga | ₹2600 | ₹2950 |
| Toyota Innova | ₹2850 | ₹3100 |
| Toyota Crysta | ₹3050 | ₹3380 |