Delhi to Jaipur taxi
Are you planning a trip from Delhi to Jaipur and looking for a reliable and comfortable taxi service? Look no further! GT Cabs is your ultimate travel companion for an exceptional journey from Delhi to Jaipur. With a commitment to excellence and customer satisfaction, GT Cabs offers a wide range of services, including one-way trips, round-trip packages, and enchanting sightseeing tours.
GT Cabs is here to provide you with a seamless and enjoyable travel experience. Whether you"re heading for a one-way journey, a round-trip adventure, or sightseeing in and around Jaipur, GT Cabs has got you covered! GT Cabs has earned its reputation as a leading taxi service provider through its commitment to excellence and customer-centric approach. Their dedication to maintaining a fleet of modern and well-equipped vehicles ensures that passengers travel in comfort and style. Furthermore, GT Cabs goes above and beyond to ensure that its fleet adheres to the highest safety standards. Regular maintenance and thorough inspections are conducted to keep their vehicles in top-notch condition, giving passengers peace of mind during their journeys. The taxi company"s emphasis on punctuality, reliability, and transparent pricing has won them the trust of countless travellers, making GT Cabs the preferred choice for Delhi to Jaipur transportation.
---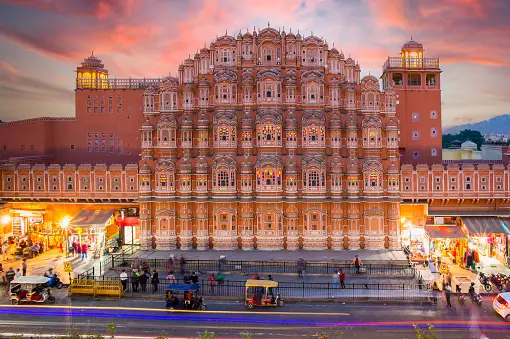 Trips GT CABS Offer:
One-Way Journeys with GT Cabs: GT Cabs offers convenient and hassle-free one-way taxi services from Delhi to Jaipur. Whether you"re travelling for business or leisure, our one-way trips are designed to provide you with the utmost comfort and convenience. Say goodbye to the stress of public transport and enjoy a smooth, personalized ride to your destination.
Round-Trip Delight: GT Cabs offers round-trip services for travellers looking to explore Jaipur at their own pace. With the freedom to plan your itinerary and the flexibility to take detours, you can immerse yourself in Jaipur"s rich cultural heritage and vibrant colours without worrying about transportation.
Sightseeing Extravaganza: GT Cabs goes the extra mile to make your trip memorable. Our sightseeing packages are tailored to showcase the best of Jaipur"s attractions, including the magnificent Amer Fort, Hawa Mahal, City Palace, Jantar Mantar, and more. Please sit back, relax, and let our experienced drivers be your tour guide as you explore the captivating beauty of the Pink City.
Why Choose GT Cabs?
GT Cabs has earned a stellar reputation as one of the leading taxi services in the region. With a strong focus on customer satisfaction and safety, GT Cabs stands out as the preferred choice for thousands of travellers. Here"s why customers trust GT Cabs for their Delhi to Jaipur journey:
Punctuality and Reliability: When you book a taxi with GT Cabs, you can rest assured that your cab will be on time, every time. We understand the value of your time and strive to provide you with a hassle-free experience.
Experienced Drivers: Our team of professional drivers is well-versed in the routes between Delhi and Jaipur. They are not just skilled drivers but also courteous and friendly individuals who prioritize your comfort and safety throughout the journey.
Wide Range of Fleet: GT Cabs boasts a diverse fleet of well-maintained vehicles. Whether you"re travelling solo or in a group, we have the perfect vehicle to cater to your needs. From sedans and SUVs to spacious mini-vans, we ensure a comfortable ride for everyone.
Affordable Pricing: We believe in transparency, and our pricing reflects that. With competitive rates and no hidden charges, GT Cabs offers you excellent value for your money.
24/7 Customer Support: We understand that travel plans may change or emergencies may arise. That"s why our customer support team is available round the clock to assist you with any queries or last-minute changes to your booking.
Our Taxi Drivers: The Heart of GT Cabs
At GT Cabs, we take pride in our team of skilled and dedicated taxi drivers. They are not just chauffeurs; they are the heart of our service. Trained to prioritize your safety and comfort, our drivers are experienced professionals who are knowledgeable about the best routes and local insights. Their friendly demeanour and courteous nature make your journey not just pleasant but memorable too.
Fleet Excellence
Our extensive fleet of vehicles is a testament to our commitment to providing you with the best travel experience. All our taxis are regularly inspected and well-maintained to ensure a smooth and reliable journey. Whether you choose a compact sedan or a spacious SUV, we guarantee a clean and comfortable ride every time. In conclusion, GT Cabs is your ideal choice for traveling from Delhi to Jaipur. With a customer-centric approach, a diverse fleet of vehicles, experienced drivers, and affordable pricing, we have everything you need for a delightful travel experience. Book your GT Cab today and embark on a journey filled with comfort, reliability, and memorable moments!