Dehradun airport to Rishikesh taxi
The distance between Dehradun airport and Rishikesh is about 25KM and Dehradun airport is the nearest airport to Rishikesh, The name of Dehradun airport is Jolly Grant airport which is the gateway of Uttarakhand for tourists, If you want to book a taxi for Dehradun airport to Rishikesh then you are at the right place because GT CABS (Ganpati Tours) provide budget cabs from Jolly Grant airport to Rishikesh, We deal in all types of rental whether you want to book a taxi for one-way, round-trip or for a round-trip with sightseeing of multiple locations. You can also hire a taxi for multiple days of customized trips for more information contact us on call or WhatsApp.
Rishikesh is a very famous city when it comes to tourism because Rishikesh is the perfect combination of adventure, peace, beauty and culture if you are planning a trip to Rishikesh then it can be the best decision for you because Rishikesh is a place where you can enjoy every moment. Rishikesh is most popular among foreigners and you may find many foreign tourists there, Rishikesh is famous for many things like Maa Ganga river, Rafting, Adventure sports, Peace, Yoga and beautiful views. If you really want to explore all these things in Rishikesh then we recommend your hire a taxi from Jolly Grant airport Dehradun to Rishikesh.
Cab for sightseeing in Rishikesh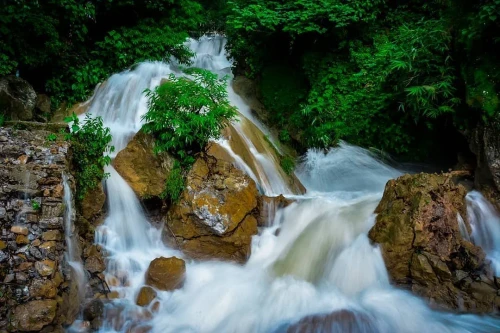 Neer Waterfall: Neer Waterfall in Rishikesh, India, is a natural wonder that captivates with its cascading beauty. Surrounded by lush greenery, it offers a refreshing escape from the hustle, making it a cherished spot for nature enthusiasts and tranquility seekers.
Ganga Arti: Ganga Aarti is a mesmerizing ritual on the banks of the sacred Maa Ganga. As evening descends, the river comes alive with heartfelt prayers and flickering lamps, creating a soul-stirring symphony of devotion. A must-see spiritual experience that captures the essence of India's cultural tapestry.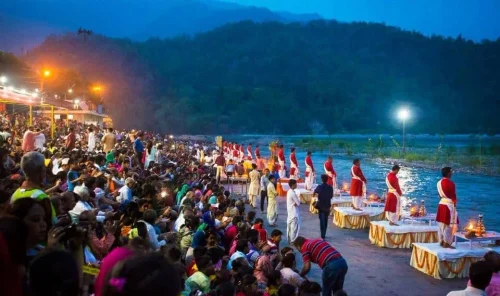 Triveni Ghat: : Triveni Ghat in Rishikesh, India, is a revered riverfront location where pilgrims gather for sacred dips and rituals in the Ganges. Witness the spiritual ceremonies and feel the serene energy of this holy destination.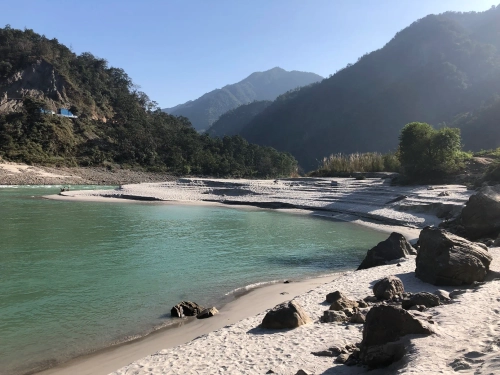 Goa Beach: Goa Beach in Rishikesh, India, isn't the coastal paradise, but a serene riverside spot. Nestled along the Ganges, it offers a relaxed ambiance for sun-soaked leisure and tranquil moments. A delightful destination to unwind amidst the scenic beauty of Rishikesh.
Ram Jhula: Gracefully suspended over the divine Maa Ganga in Rishikesh, India, is a serene marvel and a spiritual haven. Connecting devotees to ancient ashrams and temples, it offers breathtaking views and a tranquil escape, making it a must-visit for seekers of serenity in the lap of the Himalayas.
Laxman Jhula: An iconic suspension bridge in Rishikesh, India, swings above the sacred Maa Ganga. Embracing spirituality and adventure, it beckons pilgrims and travelers alike. With its mythological significance and panoramic vistas, it's a cherished destination offering a blend of divinity and beauty.
Parmath Niketan: Parmarth Niketan in Rishikesh, India, is a spiritual haven on the banks of the Ganges. With yoga, meditation, and soulful experiences, it offers a tranquil escape. A revered destination for seekers to embrace serenity and connect with their inner self.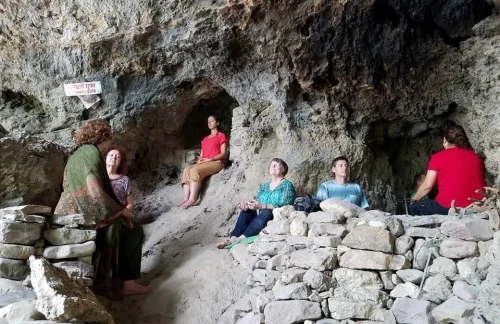 Vashishtha Gufa: It is a sacred cave where ancient sages sought enlightenment. Surrounded by nature's serenity, it's a place for introspection and inner peace, inviting visitors to connect with spirituality and the wisdom of ages past.
Cab for Adventure Activities in Rishikesh
Rafting: Rafting in Rishikesh, India, is an exhilarating adventure along the Ganges' untamed waters. Feel the rush as you navigate through thrilling rapids, surrounded by stunning landscapes. An adrenaline-packed experience that adds a splash of excitement to your Rishikesh journey.
Bungee Jumping: Bungee Jumping in Rishikesh, India, is an adrenaline-seeker's paradise. Leap from great heights at the jump site, suspended over the mesmerizing Ganges River. An ultimate thrill that combines breathtaking scenery with heart-pounding excitement for an unforgettable adventure.
Giant Swing: It is a thrilling escapade for adventure enthusiasts. Soar above the scenic landscape, suspended high above the ground, as you swing back and forth. An exhilarating experience that blends breathtaking views with an adrenaline rush, making memories that last a lifetime.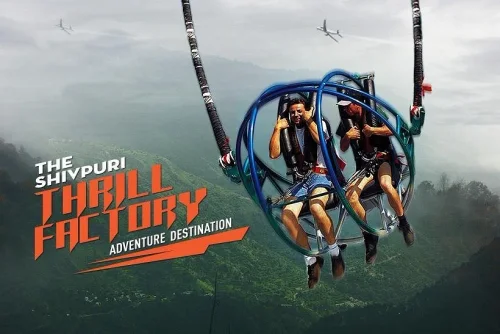 Thrii Factory: Thrill Factory in Rishikesh, India, is an adventure seeker's dream come true. From bungee jumping to giant swings, it offers heart-pounding activities against the backdrop of nature's beauty. Get ready to unleash your inner thrill-seeker and create unforgettable memories at this exciting destination.
---
Dehradun airport to Rishikesh taxi for round-trip @ 10% off
If you really want to explore and enjoy the beauty of Rishikesh then it"s better to hire a taxi for round-trip because if you hire a cab for round-trip then we include all the sightseeing free of cost. You can hire any cab for one-way and round-trip at a discounted price. We give full rights for customizing their trip like you can hire a cab for multiple locations and sightseeing for multiple days. You can also ask us to make your tour itinerary, We have multiple-car rental options like sedans, SUVs, Hatchbacks, Innova Crysta and Tempo Travellers. There are several benefits of hiring a taxi from GT CABS we are giving flat 10% off on the Dehradun airport to Rishikesh cab rental, GT CABS provide skilled and educated drivers who have knowledge of all the sightseeing and the routes, and they make sure to keep the cab neat & clean throughout the trip. GT CABS provide 24 × 7 customer support which makes GT CABS a more secure & reliable cab service.
Dehradun airport to Rishikesh one-way taxi
Dehradun airport to Rishikesh taxi or Jolly Grant airport to Rishikesh taxi for one-way starts from just ₹700, One-way rental is the cheapest taxi rental, in one-way rental service the cab pick-up customer from the airport and drop them at their given location in Rishikesh. No sightseeing is included in the one-way rental. Book your taxi from Dehradun airport to Rishikesh now by calling us on 7055333356.
People Also hire
Dehradun to Rishikesh, Haridwar taxi
Dehradun airport to Rishikesh, Mussoorie taxi
Dehradun airport to Rishikesh, Mussoorie & Haridwar taxi
Dehradun airport to Rishikesh, Dhanaulti & Mussoorie taxi
Dehradun airport to Rishikesh and Tehri taxi
Frequently Asked Questions
Do I need to pay any advance amount to book a taxi?

No, there is no need to pay any advance amount for one-way cabs, but for round-trip, a 10% amount should be paid in advance.
Do you provide Innova Crysta?

Yes, GT CABS provide all types of cab including Innova Crysta.
How to book a taxi from Dehradun airport to Rishikesh

Just contact us on call or WhatsApp.
Does the cab have a luggage carrier?

Yes, all our cabs have a luggage carrier installed.
Is sightseeing included in round-trip taxi

Yes, the sightseeing is included with a round-trip taxi rental.
Popular Hotels in Rishikesh
Hotel EllBee Ganga
Ananda Resort & Spa
Aloha on the Ganges
goStops Rishikesh
Divine Ganga cottage
Lemon Tree, Premier