Mussoorie to Rishikesh taxi
GT Cabs offers exceptional Mussoorie to Rishikesh taxi services, ensuring a seamless and scenic journey for travellers. Whether you're seeking a one-way trip or a round-trip adventure complete with sightseeing, GT Cabs is your reliable partner in exploring the beauty of the region.
Embark on a picturesque journey from Mussoorie to Rishikesh with our top-notch cab services. Enjoy the breathtaking landscapes and serene views while travelling in comfort and style. Our seamless and reliable Mussoorie to Rishikesh cab services offers you the perfect way to explore the mesmerizing beauty of Uttarakhand. Read on to discover why our cab services stand out and make your travel experience memorable.
Mussoorie to Rishikesh One-Way Taxi: Unwind and Explore
Embark on an unforgettable journey from Mussoorie to Rishikesh with GT Cabs' one-way taxi service. Our skilled drivers and well-maintained fleet guarantee a comfortable and secure ride. Revel in the breathtaking views as you travel seamlessly from the serene hills of Mussoorie to the spiritual haven of Rishikesh.
---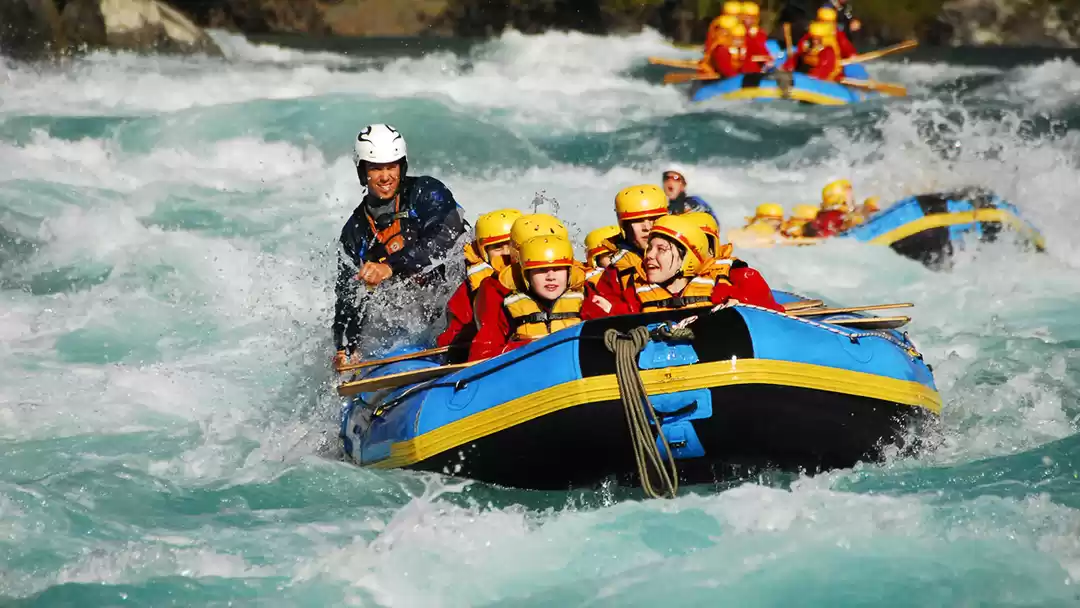 Mussoorie to Rishikesh Round-Trip Taxi with Sightseeing: Experience the Best of Both Worlds
Experience the best of both worlds with GT Cabs' round-trip taxi service from Mussoorie to Rishikesh, complete with captivating sightseeing opportunities. Immerse yourself in the natural wonders and cultural treasures as you explore the scenic route, stopping at iconic landmarks along the way. Our expert drivers ensure a personalized and enriching journey.
Activities to Do in Rishikesh: Adventure and Tranquility Awaits
Rishikesh, known as the "Yoga Capital of the World," offers a diverse range of activities that cater to every type of traveller. From adrenaline-pumping adventures to serene spiritual pursuits, Rishikesh has it all:
River Rafting: Experience the thrill of navigating the mighty Ganges River through exhilarating rapids. Rishikesh is a haven for adventure enthusiasts seeking the rush of white-water rafting
.
Yoga and Meditation Retreats: Immerse yourself in the serenity of Rishikesh's tranquil environment by participating in yoga and meditation retreats. Learn ancient techniques to rejuvenate your mind, body, and soul.
Bungee Jumping: Take a leap of faith from the towering heights of Rishikesh's bungee jumping platform, offering an unforgettable experience and panoramic views of the surrounding landscapes.
Visit Ashrams and Temples: Explore Rishikesh's spiritual side by visiting renowned ashrams like the Parmarth Niketan and Sivananda Ashram. Pay homage at revered temples like the Trimbakeshwar Temple and Bharat Mandir.
Ayurvedic Wellness: Indulge in Ayurvedic treatments and therapies to unwind and rejuvenate. Rishikesh's wellness centres offer traditional healing methods to restore harmony and balance.
Sightseeing in Rishikesh: A Tapestry of Spiritual and Natural Marvels
Rishikesh boasts a captivating blend of spiritual and natural attractions that are a must-see for every visitor. From the iconic Laxman Jhula and Ram Jhula suspension bridges to the tranquil Triveni Ghat, where spiritual ceremonies unfold against the backdrop of the setting sun, Rishikesh offers a tapestry of experiences that will leave you in awe.
Cab for sightseeing in Rishikesh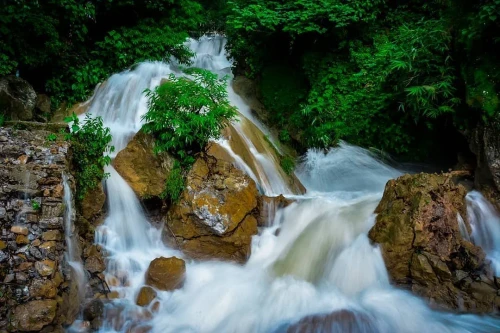 Neer Waterfall: Neer Waterfall in Rishikesh, India, is a natural wonder that captivates with its cascading beauty. Surrounded by lush greenery, it offers a refreshing escape from the hustle, making it a cherished spot for nature enthusiasts and tranquility seekers.
Ganga Arti: Ganga Aarti is a mesmerizing ritual on the banks of the sacred Maa Ganga. As evening descends, the river comes alive with heartfelt prayers and flickering lamps, creating a soul-stirring symphony of devotion. A must-see spiritual experience that captures the essence of India's cultural tapestry.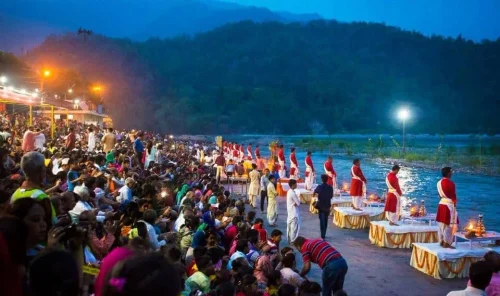 Triveni Ghat: : Triveni Ghat in Rishikesh, India, is a revered riverfront location where pilgrims gather for sacred dips and rituals in the Ganges. Witness the spiritual ceremonies and feel the serene energy of this holy destination.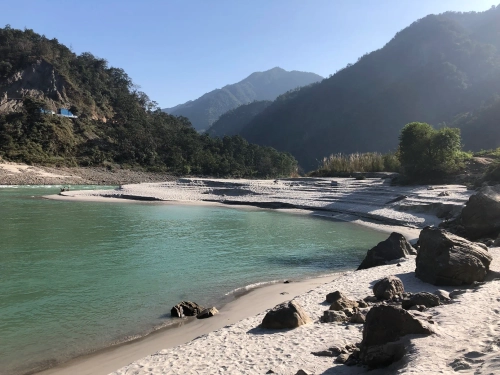 Goa Beach: Goa Beach in Rishikesh, India, isn't the coastal paradise, but a serene riverside spot. Nestled along the Ganges, it offers a relaxed ambiance for sun-soaked leisure and tranquil moments. A delightful destination to unwind amidst the scenic beauty of Rishikesh.
Ram Jhula: Gracefully suspended over the divine Maa Ganga in Rishikesh, India, is a serene marvel and a spiritual haven. Connecting devotees to ancient ashrams and temples, it offers breathtaking views and a tranquil escape, making it a must-visit for seekers of serenity in the lap of the Himalayas.
Laxman Jhula: An iconic suspension bridge in Rishikesh, India, swings above the sacred Maa Ganga. Embracing spirituality and adventure, it beckons pilgrims and travelers alike. With its mythological significance and panoramic vistas, it's a cherished destination offering a blend of divinity and beauty.
Parmath Niketan: Parmarth Niketan in Rishikesh, India, is a spiritual haven on the banks of the Ganges. With yoga, meditation, and soulful experiences, it offers a tranquil escape. A revered destination for seekers to embrace serenity and connect with their inner self.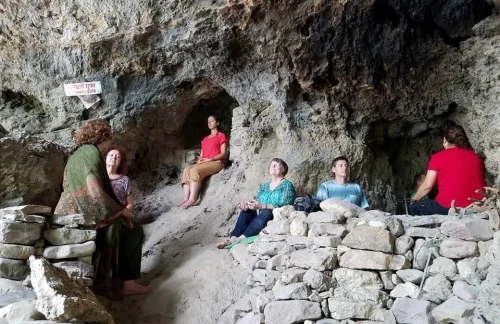 Vashishtha Gufa: It is a sacred cave where ancient sages sought enlightenment. Surrounded by nature's serenity, it's a place for introspection and inner peace, inviting visitors to connect with spirituality and the wisdom of ages past.
Cab for Adventure Activities in Rishikesh
Rafting: Rafting in Rishikesh, India, is an exhilarating adventure along the Ganges' untamed waters. Feel the rush as you navigate through thrilling rapids, surrounded by stunning landscapes. An adrenaline-packed experience that adds a splash of excitement to your Rishikesh journey.
Bungee Jumping: Bungee Jumping in Rishikesh, India, is an adrenaline-seeker's paradise. Leap from great heights at the jump site, suspended over the mesmerizing Ganges River. An ultimate thrill that combines breathtaking scenery with heart-pounding excitement for an unforgettable adventure.
Giant Swing: It is a thrilling escapade for adventure enthusiasts. Soar above the scenic landscape, suspended high above the ground, as you swing back and forth. An exhilarating experience that blends breathtaking views with an adrenaline rush, making memories that last a lifetime.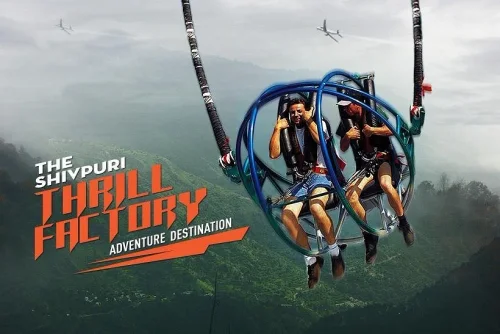 Thrii Factory: Thrill Factory in Rishikesh, India, is an adventure seeker's dream come true. From bungee jumping to giant swings, it offers heart-pounding activities against the backdrop of nature's beauty. Get ready to unleash your inner thrill-seeker and create unforgettable memories at this exciting destination.
GT Cabs Fleet: Your Comfort, Our Priority
At GT Cabs, we prioritize your comfort, safety, and satisfaction. Our fleet ensures that you travel in style while enjoying the stunning vistas on your journey from Mussoorie to Rishikesh. Book your taxi with GT Cabs and embark on a memorable adventure through the heart of Uttarakhand.
Sedan: Perfect for solo travellers or small groups, our sedans provide a cosy and efficient ride, ideal for both short and long distances.
Ertiga: Stylish and versatile, the Ertiga is ideal for small families or groups, offering a balanced combination of comfort and efficiency.
Innova Crysta: Luxurious and spacious, the Innova Crysta ensures a comfortable journey for families and groups, promising a blend of style and functionality.
Tempo Traveller: When travelling with a larger group, our Tempo Traveller offers ample space without compromising on comfort, making group trips enjoyable and convenient.
FAQs about Mussoorie to Rishikesh taxi
How do I book a taxi from Mussoorie to Rishikesh with GT Cabs?

Booking a taxi with GT Cabs is simple and convenient. You can visit our official website, use our mobile app, or call our customer support to make your reservation. Provide your travel details, preferred vehicle type, and any special requests, and our team will assist you in securing your journey.
Can I book a round-trip taxi from Mussoorie to Rishikesh with sightseeing included?

Absolutely! GT Cabs offers round-trip taxi services from Mussoorie to Rishikesh, complete with customizable sightseeing options. You can explore popular attractions en route and in Rishikesh itself, making your journey both convenient and enriching.
Are there any additional charges for sightseeing during the Mussoorie to Rishikesh round-trip?

GT Cabs offers transparent pricing, and the charges for sightseeing during the round-trip are typically included in the package. However, it's advisable to confirm the details with our customer support when making your reservation.
Is advance booking required for the taxi service?

While we accommodate last-minute bookings based on availability, we recommend booking your taxi in advance to secure your preferred vehicle and travel dates, especially during peak seasons.
Can I make changes to my booking, such as travel dates or vehicle type?

Yes, you can make changes to your booking, subject to availability. We recommend contacting our customer support as soon as possible to make any necessary adjustments to your travel plans.